Whether visiting for business or pleasure, our free travel guides provide the planning tools to help make your Salt Lake Visit an unforgettable experience. Reviews, tips, discount offers on hotels, condo rentals, golf, restaurants, activities, attractions and much more, all with the intent to bring you the latest information for your upcoming visit to Salt Lake.

Salt Lake City Bars are featured on this page of our 2019 Visit Salt Lake.org Travel Guide.





Salt Lake City Bars & Nightlife






Getting a great beer or cocktail in Utah has never been so easy. Salt Lake's many bars and hot spots offer up great lunch options, appetizers, dinner, national and local micro-brewed beers, cocktails, sports and entertainment options. Choose from local joints, sports bars, after work relaxing pubs, piano bars, pool halls or live-music. Whether it be rock, jazz, blues, country western or even karaoke nights, Salt Lake has you covered.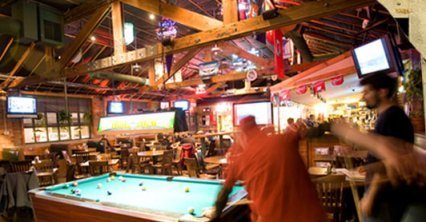 Fiddler's Elbow - A Sports Bar With An Incredible Menu
Craving comfort food? This American roadhouse serves what you're looking for in a casual, comfortable atmosphere. The menu offers up the comforts of home and tasty bar food, like the artichoke dip and nacho platter. Seasonal specials such as steamers and a pulled pork sandwich round things off. Pool tables, dart boards, City Weekly's "Best Comfort Food," 32 of Utah's best microbrews on tap. 10' by 6' high definition screen plus 16 additional TVs.


1/2 Price Appetizers on Wednesdays Between 3 & 6pm View Their Daily Specials


Location: 1063 East 2100 South Highland Drive. - Phone: 801.463.9393


website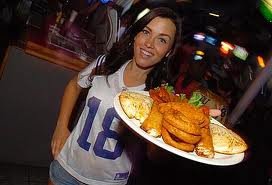 The Copper Creek Pub in West Valley


The laid back Copper Creek Pub has a family friendly atmosphere and is a great place to kick back & watch just about any sports broadcast on any one of their 8 flat screen T.V.'s. Check out the Bleu Bacon Burger, out of this world Fish Tacos, their succulent Pastrami Burgers or the Spicy Steak Medallions.


Location: 12 Miles From Downtown Salt Lake - Phone: 801.417.0051


Address: 3451 South 5600 West, Suite A. West Valley City, UT 84120


website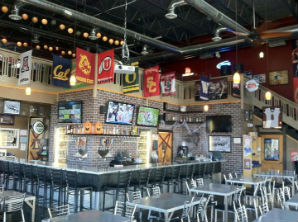 The Break Sports Bar & Grille


Location: 22 Miles From Downtown Salt Lake - Phone: 801.987.3354


Address: 11274 Kestrel Rise Rd. South Jordan, UT 84095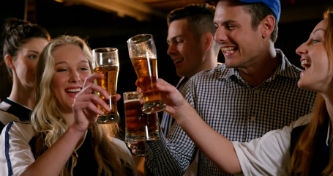 The Black Sheep Bar & Grill
Great Environment!!! They have 14 flat screen TVs and 2 projectors that are always playing the hottest sporting events for everyone to come in and enjoy as a community!
Location: 15 Miles Southwest of Downtown Salt Lake - Phone: 801.566.2561
Address: 1520 West 9000 South, West Jordan - Website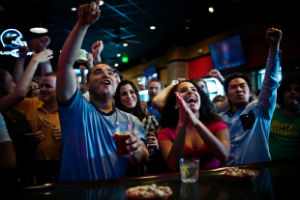 Leatherheads Sports Bar and Grill
Serving the South End of the Valley, Leatherheads offers up more than 20 Flat screen and Big screen TV's for all the sports events you'll want to see. Also featuring Good Food, Drinks, Pool Tables, Live Bands from country to rock n roll on Saturday Nights, Karaoke, Texas Hold-em Tournaments and Paint Nights.
Location: 17 Miles from Downtown Salt Lake in Draper - Phone: 801.523.1888
Address: 12101 South Outlet Drive, Draper - Website




Downtown Salt Lake City Bars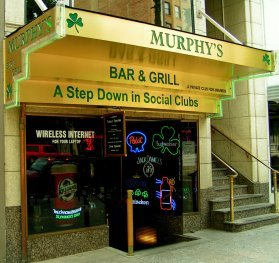 Murphy's Bar & Grill
If you're staying downtown, close to all the major hotels is a small place called "MURPHY'S". Not only is it the only place to be seen on St. Paddy's Day, but it's a neighborhood bar with great food, sports viewing and friendly servers. You will feel very comfortable there having a few toddies, chatting with our locals, etc.


Location: 160 South Main Street. - Phone: 801.359.7271


website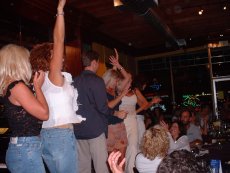 The Tavernacle
Just walking distance from the heart of downtown is Salt Lake's Premiere Dueling Piano Bar. Located conveniently downtown, you will be able to be a part of the interactive live piano show. Karaoke on Sunday & Tuesday nights.


Location: 201 East 300 South. - Phone: 801.519.8900


website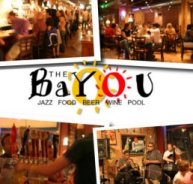 The Bayou
A wonderful downtown Salt Lake restaurant and bar offering over 200 beers from around the world. The Bayou is referred to by our locals as "Beervanna". Hard-to-find and rare beers all within an upscale setting, with live jazz on Thursday, Friday and Saturday nights. It is also a restaurant that serves hefty portions of Cajun cuisine like jambalaya, deep-fried catfish and many other Southern delights.


Location: 645 South State Street. - Phone: 801.961.8400


website
Our Visit Salt Lake Menu





Attractions, Sites & Things To Do
Kids Activities
Sightseeing Tours
Salt Lake Shopping
Shopping Malls
Golf Courses - Salt Lake's Best
Outdoors & Recreation, Camping, Fishing, Hiking, Boating, etc.
Great Salt Lake State Park - Official Site
Great Salt Lake Marina - Official Site
Salt Lake City's Best Restaurants
Utah's Liquor Laws
Salt Lake City Bars, Nightlife, Sportsbars & Karaoke
Downtown Salt Lake City Bars & Pubs
Live Music in Salt Lake City
Downtown Salt Lake City's Best Restaurants
Airport Info for Salt Lake City
Car Rentals
Salt Lake Transportation, Airport Limos, Taxis, Shuttles
Salt Lake Deals, Discounts
Moving To Salt Lake City
Salt Lake City Area Maps





Salt Lake City Lodging



Hotels in Salt Lake City

Lodging near the Family History Library

Hotels Downtown Salt Lake

Hotels south end of the Salt Lake Valley

Bed And Breakfast Lodging in Salt Lake City

Request Free Lodging Brochures









Salt Lake In The Winter



Utah's Ski Resorts

Discounted Ski Utah Lift Tickets

Renting Skis & Snowboards

Buying Gear - Skis, Boards, Goggles & Clothing

Ski Lodging in Salt Lake City

Ski Salt Lake's Official Site

Utah Skiing's Official Site









Park City Travel and Tourism



Park City Lodging - Condos, Homes

Hotels in Park City Utah

Park City Info Official Site









More Salt Lake Info



Official Salt Lake City Government Website

Gereral Info About Salt Lake City

SLC Dining Guide

Photos




Views









Welcome to our Visit Salt Lake.org Travel Guide for 2019

Whether visiting for business or pleasure, our free travel guides provide the planning tools to help make your Salt Lake Visit an unforgettable experience. Review our up-to-date travel information for great ideas and insider finds, plus travel tips that will help you experience everything Salt Lake has to offer!

We believe you'll enjoy Salt Lake and we hope you come back often.


Contact Us


Salt Lake Visitor Services, Publisher of the Visit Salt Lake.org Travel and Tourism Guide
Salt Lake City, Utah 84106

© Copyright 1998 - 2019. All Rights Reserved.